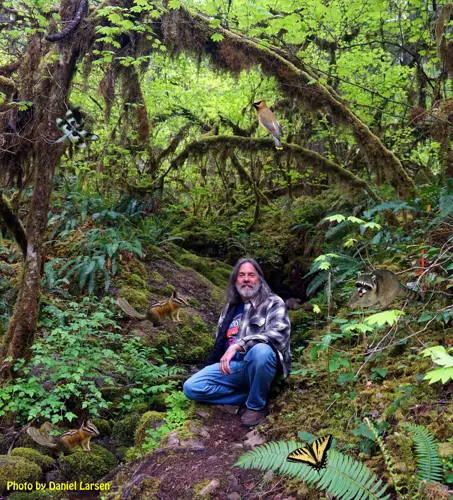 Ben's Bio
Ben Upham III spent his early years through his first year of college in Mill Valley, California, the town where he was born. He headed nearly 1,000 miles Northeast to Spokane, Washington at age 18. He moved back to Northern California for five years in the early '80s, then back to Spokane in August of 1985 where he remained until May of 2015 when relocating to the town of Corvallis, Oregon.
In 1974 Ben learned the basic skills for developing black & white film, and dark room techniques for printing in photography classes at Tamalpais High School. Two of his best friends, Ethan Grossman & Chris Mulhern provided guidance & inspiration as he set up a darkroom at his Grandmother's house.
Ben joined the high school newspaper & yearbook staff during his junior year, and became the main photographer for both the following year as a senior. Aside from taking the Sports pictures & High School candid shots, he started to take his camera along on nature hikes and to rock concerts connecting with the artistic side of his photography skills.
Over the course of the next five years (1975-1980) he would photograph nearly every concert that he attended (in both California & Washington), over 6,000 images of 50 major rock bands from that era!
In 2007 he purchased a computer to scan & store his vast collection of rock musician images & nature photos. In 2011 Magical Moment Photos was born.
Ben's Published Work
Ben's Photographs have been published by major recording artists in a variety of projects:
2015
In Spring of 2015 Rock Author Martin Popoff published yet another book featuring two of Ben's Black Sabbath pictures from the September 28, 1978 Spokane, Wa. Concert. This book is titled, "Who Invented Heavy Metal".
On June 9, 2015 a Jethro Tull Interview CD called, "Tales of Wonder" was released by MVDaudio and it features Ben's photo/artwork of Jethro Tull in concert from Pullman, Wa. on 3-5-77 as the front cover art.
In July of 2015 author Howard Weiner published his excellent and unique book, "Grateful Dead 1977: The Rise of Terrapin Nation". A stunning and fun read about the Dead in what many consider their finest year! The 224 page book features two of Ben's Grateful Dead photographs taken at Winterland in San Francisco, Ca. on December 27, 1977.
2014
On July 1, 2014 Author Martin Popoff published, "Steal Away the Night: An Ozzy Osbourne Day-by-Day" on Backbeat Books. The 256 page extravaganza features two of Ben's Black Sabbath pictures from the concert in Spokane, Wa. on September 28, 1978.
In August of 2014 Ron Eckerman's Fantastic Book, "Turn it up!: Love, Life, and Death, Southern Style" was re-released as a second edition. The initial 2011 release didn't have any of Ben's pictures in it, but Ron had contacted Ben in 2013 to get permission for use of his photos in the upcoming revision. Ben was happy to help out and sent Ron a batch of his photos to choose from. Sadly, Ron lost his battle with cancer on May 11, 2014. However his Wife, Carolyn, contacted Ben in June and they worked out the details, and saw the new version published in August with Six of Ben's photographs in the book, including the killer Ronnie Van Zant front cover shot that was taken at Winterland in San Francisco on 4-27-75.
2012
In December of 2012 Rock Author Martin Popoff published his book, "Epic Ted Nugent" on Power Chord Press. The 290 page book features six of Ben's pictures of the "Motor City Madman"(Nugent) from various concerts in 1976.
2011
On April 25, 2011 Scott Coner and Gene Odom published their book, "Lynyrd Skynyrd, Ronnie Van Zant, and me…Gene Odom" on iUniverse Incorporated. The book features one of Ben's photos of Ronnie Van Zant, taken at Winterland in San Francisco, Ca. on March 6, 1976 as the front cover photo of the book.
On May 1, 2011 renowned Rock Author Martin Popoff published a very nice 400 page book on Black Sabbath called, "Black Sabbath FAQ – All that's left to know on the first name in metal". The book features three of Ben's Black Sabbath photographs taken in Spokane, Wa. on September 28, 1978 and also includes a written review of that concert written by Ben.
2006
On April 25, 2006 the Tommy Bolin Archives released some of the finest unheard studio recordings of Bolin's career with the incredible CD, "Whips and Roses"on SPV Records. The CD packaging includes a very nice booklet which prominently features one of Ben's photos of Tommy taken at Winterland in San Francisco, Ca. on May 7, 1976.
2002
On October 8, 2002 Frank Dorman and Gene Odom published their highly acclaimed book, "Lynyrd Skynyrd, Remembering the Free Birds of Southern Rock" on Broadway Books, a division of Random House. The beautiful and informative 220 page book features nine of Ben's Lynyrd Skynyrd photographs from various shows.
British Rock Band Be Bop Deluxe issued a fantastic CD on Hux Records called "Tremulous Antennae". The release features rare and archival BBC recordings of the band from 1976-1978. One of Ben's photos from a concert in Spokane, Wa. on November 19, 1976 is included in the CD packaging.
2000
On January 25, 2000 Hopesong/GMV Nashville released Toy Caldwell's only official studio solo album, "Son of the South". The brilliant musical masterpiece prominently features two of Ben's photos taken at a concert in Spokane, Wa. on 3-9-79 when Toy was the leader of the Marshall Tucker Band.
1996
Two of Ben's photographs of Rory Gallagher taken in Kent, Wa. on December 18, 1979 wound up as cover shots on the Two-Cassette Tape release "Rory Gallagher Tribute by Various Artists".
1991
On November 12, 1991 Southern Rock Band Lynyrd Skynyrd released their excellent self-titled 3-CD Box Set on MCA Records. The package included many rarities and unreleased songs as well as a beautifully crafted 60 page booklet that included one of Ben's photos of the band taken at Winterland in San Francisco, Ca. on March 6, 1976.